LATEST NEWS

Script submissions for the 2024 It's My Shout Summer Scheme are open!
We will be looking for unique short stories, that have not been told before
Please make sure that your screenplay:
– Is in the Welsh or English language
-includes a minimum of 4 speaking characters
-includes supporting artists
– Is based in Wales with an aim to show off the local surroundings. (e.g. not just set in a house).
We will be asking you to submit a completed draft of a short screenplay (8-15 pages) via our online application process.
The chosen scripts will be produced into short films which will be made for BBC Cymru Wales or S4C!
The deadline is 26th January 2024.
Bydd Ceisiadau Sgriptio ar gyfer Cynllun 2024 It's My Shout ar Agor!
'Da ni'n edrych am straeon byr, unigryw sydd heb gael eu dweud o'r blaen!
Plîs gwnewch yn siŵr bod y sgript:
-Yn yr iaith Gymraeg neu Saesneg
– Yn cynnwys lleiafrif o 4 cymeriad sydd yn siarad yn y ffilm
– Yn cynnwys artistiaid cefnogol
– Wedi eu lleoli yng Nghymru ac yn arddangos yr amgylchoedd lleol.
Byddem yn gofyn chi i gyflwyno drafft o sgript fer (8-15 tudalen) trwy ein proses cais ar lein.
Caiff y sgriptiau a ddewiswyd eu cynhyrchu mewn i ffilmiau byr bydd yn cael eu rhyddhau ar BBC neu Hansh.
Y dyddiad cau yw'r 26ain o Ionawr 2024.
---
A MESSAGE FROM NATHAN BLAKE, VICE CHAIR,
ON BEHALF OF IT'S MY SHOUT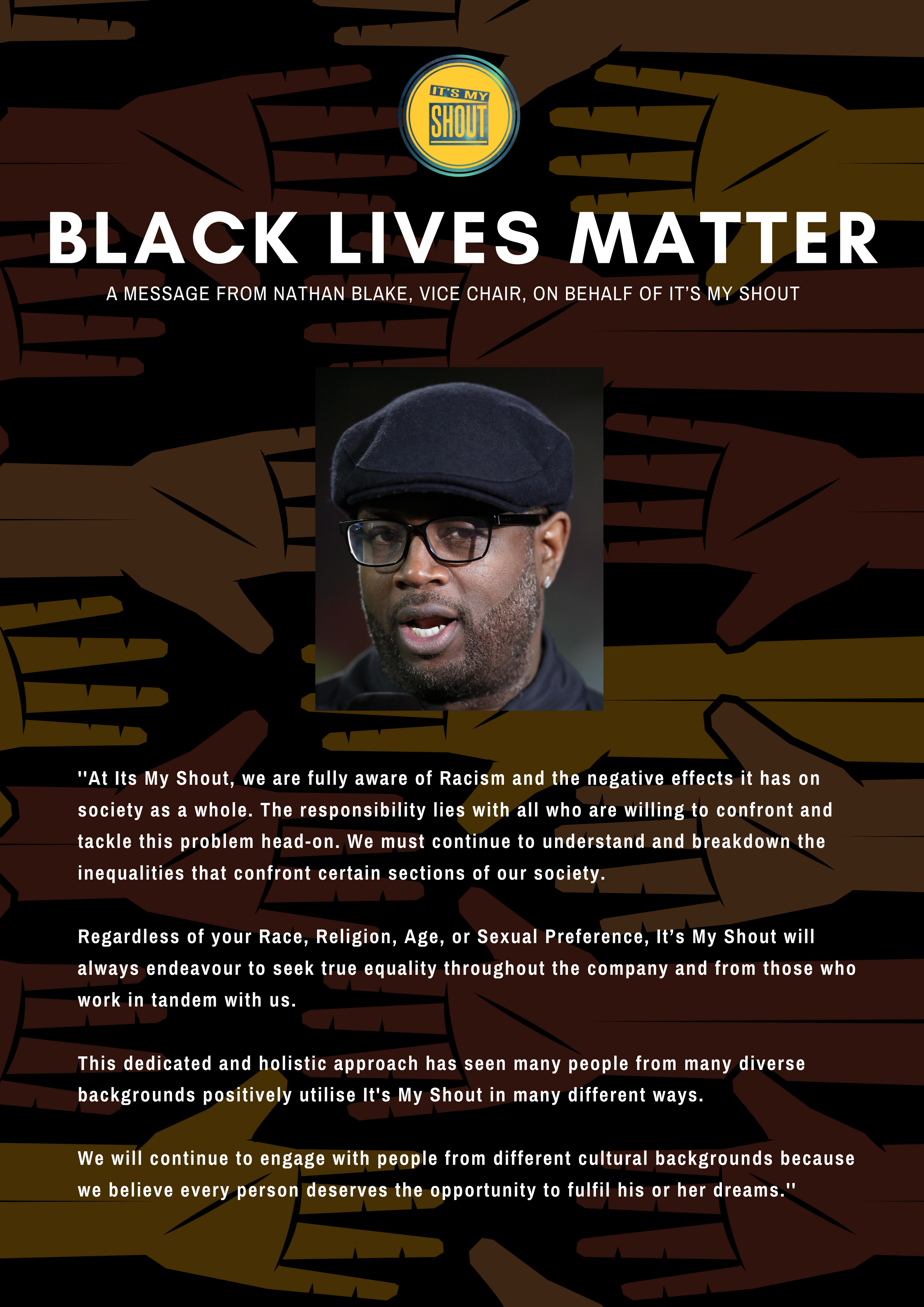 "At Its My Shout, we are fully aware of Racism and the negative effects it has on society as a whole. The responsibility lies with all who are willing to confront and tackle this problem head-on. We must continue to understand and breakdown the inequalities that confront certain sections of our society.
Regardless of your Race, Religion, Age, or Sexual Preference, It's My Shout will always endeavour to seek true equality throughout the company and from those who work in tandem with us.
This dedicated and holistic approach has seen many people from many diverse backgrounds positively utilise It's My Shout in many different ways.
We will continue to engage with people from different cultural backgrounds because we believe every person deserves the opportunity to fulfil his or her dreams."
---
🎬🎉 THAT'S A WRAP! 🎉🎬
We have just completed the filming of our Spring/Winter slate of dramas for 2023. These films will be released later on in the year, we just want to say a massive thank you to our supporters, cast, crew and production team for their amazing work!
---
It's My Shout
Awards Night 2023